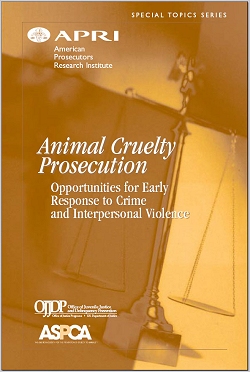 Dr. Randall Lockwood, Senior Vice President of Anti-cruelty Initiatives and Legislative Services for the ASPCA and author of several books addressing the connection between animal cruelty and interpersonal violence, was asked to develop a guide to animal cruelty prosecution by the National Association of District Attorneys, funded by the Dept. of Justice.
Download: click here
Size: 470k
It is important to realize that in many situations where animal cruelty cases are not prosecuted well, the real cause may be the prosecutor's inexperience with regard to animal cruelty case prosecution. Inexperience with the special situations that animal cruelty cases entail may result in inadequate sentencing, or even a lost case.
Animal Cruelty Prosecution - Opportunities for Early Response to Crime and Interpersonal Violence is a 60-page book targeted to prosecuting attorneys to help them learn how to effectively handle animal cruelty case prosecution.
Table of Contents:
Introduction
A Brief History of Animal Cruelty Laws
Why Prosecute Animal Cruelty Cases?
Cruelty to Animals is a Crime
Cruelty to Animals Can Be a Predictor Crime
Cruelty to Animals Can Be an Indicator Crime
Cruelty to Animals Destabilizes Communities
Prosecuting Animal Cruelty is Consistent with the Balanced
Approach Model of Juvenile Justice
Defining "Cruelty to Animals"
Types of Animal Cruelty
Simple Neglect
Gross, Willful, Cruel or Malicious Neglect
Intentional Abuse, Torture
Animal Hoarding
Organized Abuse -- Dogfighting, Cockfighting
Ritualistic Abuse
Animal Sexual Abuse (Bestiality)
The Progression of a Cruelty to Animals Case
Reporting Cruelty
Seizure/Impound
Disposition of Deceased Animals
Charging Decisions
Building the Cruelty to Animals Case
Sentencing Requests and Guidelines
Conclusion
References
Appendix
This book is essential for every prosecutor, and is available for free download by clicking on the link below. Please note, this book is in PDF format and you will need a copy of Adobe Acrobat to open it.